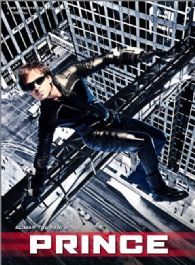 Overall Rating :

Please login to rate this movie.
Prince
Plot

PRINCE...
Nothing and No One Can Be Trusted...
One of the savviest thieves in the world commits the biggest heist of his life. He wakes up next the morning to realize he has a gunshot wound on his arm that he doesn't remember getting.
In his quest to find answers he discovers his name is Prince, he used to work for a man named Sarang and his girlfriend's name is Maya.
He is being hunted by the secret service of India- I Grip, the CBI and the biggest white collared ...
Movie Details
Language: Hindi
Status: Released

Cast
Mayur Puri, Vivek Oberoi, Aruna Shields, Nandana Sen, Neeru Bajwa, Amit Behl, Sanjay Kapoor, Neeru Bajwa, Dalip Tahil, Rajesh Khattar, Mohit Chauhan
Production Credits
Dialogue Writer: Mayur Puri