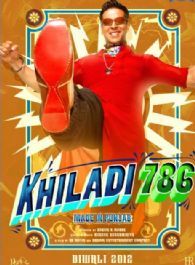 Overall Rating :

Please login to rate this movie.
Khiladi 786 - Made in Punjab
Plot
The latest addition to the Khiladi series, we hear, is Khiladi 786 - Made in Punjab,
with Akshay teaming up with newly turned funny man, Himesh Reshammiya
(who is tipped to play a Gujrati), as the male leads. The female lead,
however, is yet to be finalised. Nonetheless, to add more to the comical
flavor, Paresh Rawal will be seen playing the role of Champaklal,
Himesh's father in the movie.

Directed by Rohit Shetty's
assistant, Ashish ...
Movie Details

Genre: Comedy
Language: Hindi
Status: In Production

Cast
Naveen Prabhakar, Himesh Reshammiya, Akshay Kumar
Production Credits
Publicity Designers: Rahul Nanda