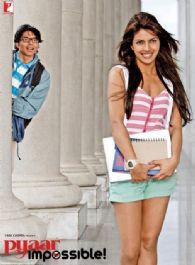 Overall Rating :

Please login to rate this movie.
Pyaar Impossible
Plot

Character Sketch

Pyaar Impossible Uday Chopra: Abhay
Abhay is a nerdy, awkward, socially challenged, bespectacled geek. He has two loves in his life, his first is Alisha and the second, computers. We meet him first in University where he falls for Alisha, knowing that there can never be anything between them. Later, when we meet him again, he is trying to launch his career. He comes face to face with Alisha again and we see that he still loves her, the same as he always ...
Movie Details
Language: Hindi
Status: Released

Cast
Rahul Vohra, Uday Chopra, Priyanka Chopra, Anupam Kher,
Production Credits
Costume Designer: Shiraz Siddiqui

Director: Jugal Hansraj