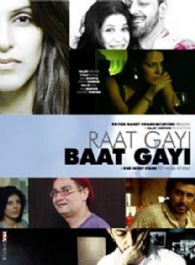 Overall Rating :


Please login to rate this movie.
Raat Gayi Baat Gayi
Plot

Character Sketch:

Rajat Kapoor as Rahul is an ad film maker and a perfect family man. He and Mitali have been married for eight years now and they have a beautiful daughter that he dotes upon. Rahul is loyal to his friends, socially successful and charming. A single encounter with a mysterious woman changes a lot of things he would formerly assume as established facts about himself and his married life.

Iravati Harshe as Mitali is an intelligent modern urban woman and ...
Movie Details
Language: Hindi
Status: Released

Cast
Rajat Kapoor, Vinay Pathak, Neha Dhupia, Iravati Harshe, Navneet Nishan, Dalip Tahil, Aamir Bashir