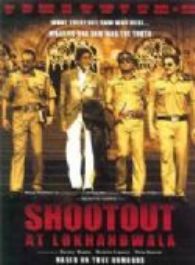 Overall Rating :

Please login to rate this movie.
Shootout At Lokhandwala
Plot

From director Apoorva Lakhia comes Shootout At Lokhandwala, a shocking, hypnotic look at a real-life disaster. On a calm summer day in 1991, in the bustling Lokhandwala Complex, five criminals including Maya and Dilip were counting 70 lakhs in flat no. 32 B, when 286 policemen, headed by ACP Khan, took strategic positions around their building. A gunfire ensued and the entire nation witnessed the most talked about daylight encounter lasting 6 hours that transformed suburban Mumbai into ...
Movie Details

Genre: Thriller
Language: Hindi
Status: Released

Cast
Aarti Chhabria, Arbaaz Khan, Neha Dhupia, Vivek Oberoi, Dia Mirza, Tusshar Kapoor, Arjun Rampal, Abhishek Bachchan, Sanjay Dutt, Shabbir Ahluwalia
Production Credits
Producer: Sobha Kapoor, Sanjay Gupta

Director: Apoorva Lakhia

Dialogue Writer: Virag Mishra

Producer: Ekta Kapoor