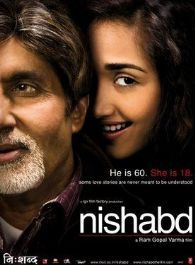 Overall Rating :


Please login to rate this movie.
Nishabd
Plot



Nishabd is Ram Gopal Varma?s next which again stars superstar Amitabh Bachchan in lead. The film will also launch a new actress, Jiah Khan, who plays Amitabh?s love interest in the film.



Amitabh Bachchan plays a wild life photographer in the film. He spots Jiah for the first time when he is watering the plants in a garden. The lensman with an artistic vision starts clicking her pictures of this Jiah playing in the water getting all wet. And from this ...
Movie Details
Language: Hindi
Status: Released

Cast