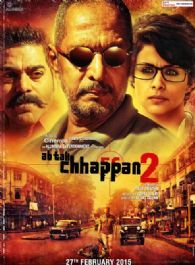 Overall Rating :


Please login to rate this movie.
Ab Tak Chhappan 2
Plot
Saadhu Aagashe's back and taking the count beyond 'chappan'
with Ab Tak Chappan 2. The sequel of the much applauded film has the Home
Minister Janardhan Jagirdar along with chief Minister Anna Saheb pledging to
eradicate the menace caused by underworld don Rawale who is operating from
Bangkok and don Rauf Lala who is operating from Mumbai.
Knowing a gandhian approach won't tackle the
problem, the Encounter Squad is brought back together. A reluctant ...
Movie Details
Language: Hindi
Status: Released

Cast
Mohan Agashe, Gul Panag, Ashutosh Rana, Nana Patekar, Vikram Gokhale
Production Credits
Producer: Raju Chadha