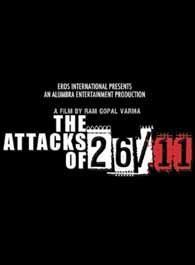 Overall Rating :

Please login to rate this movie.
The Attacks of 26/11
Plot
The Attacks of 26/11 is a cinematic interpretation of the tragic event.
The movie captures what happened between 9.30 pm to 1 am on the fateful
night of 26/11. The movie intends to give a soulful insight into the
emotions behind the tragedy.
Movie Details

Genre: Crime,Thriller
Language: Hindi
Status: Released

Cast
Vikas Srivastav, Sanjeev Jaiswal, Nana Patekar,
Production Credits
Producer: Parag Sanghavi

Director: Ram Gopal Varma