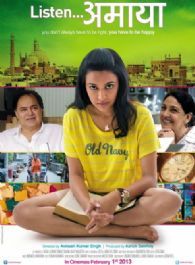 Overall Rating :


Please login to rate this movie.
Listen... Amaya
Plot

After having lost her husband 12 years ago, Leela refuses to become a stereotypical wallflower, who wallows in the unfairness of life. It translates into the sort of person she becomes, the way her daughter is brought up and the people who are attracted to her.

And along the way, Leela falls in love again.

Given that Amaya is open minded and modern in the way she reacts to various things around her, gives Leela reason to believe that this will in no way be a ...
Movie Details

Genre: Drama
Language: Hindi
Status: Released

Cast
Farooq Shaikh, Swara Bhaskar, Deepti Naval, Siddhant Karnick