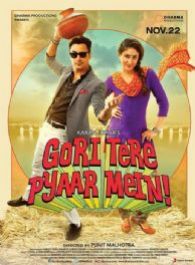 Overall Rating :

Please login to rate this movie.
Gori Tere Pyaar Mein
Plot
Sriram Venkat is the most shallow guy on earth who doesn't value relationships, family, friends, life or the country. Not necessarily in that order. Because he couldn't care less about the order. This makes him the clear 'black' sheep of the family.

At some point this shallow man begins to narrate the story of the crazy relationship he shared with Dia Sharma. His ex girlfriend. A firebrand social activist who wanted to change the world. An attraction which was physical initially ...
Movie Details

Genre: Comedy,Romance
Language: Hindi
Status: Released

Cast
Vineet Kumar Singh, Imran Khan, Shraddha Kapoor, Kareena Kapoor
Production Credits
Publicity Designers: Rahul Nanda

Director: Punit Malhotra

Costume Designer: Manish Malhotra

Producer: Karan Johar