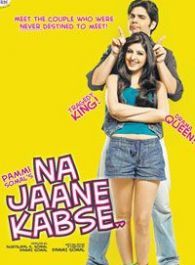 Overall Rating :

Please login to rate this movie.
Na Jaane Kabse..
Plot

Na Jaane Kabse is a romantic comedy, beautifully shot in snow-clad mountains of Leh-Ladakh, Shimla Hills & the 'sarson ke khet' of Punjab. What happens when a boy meets a girl? They fall in love of course! But what happens when the boy meets girl... along with a bunch of people and situations doing their best not to let cupid strike!? It leads to severe incompatibility and utter chaos!

A musical journey of a young bartender turned Business Tycoon and a simple librarian ...
Movie Details

Genre: Romance
Language: Hindi
Status: Released

Cast
Lillete Dubey, Amrita Prakash, Sharat Saxena, Gurpreet Guggi, Lillette Dubey, Javed Sheikh