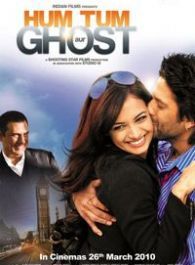 Overall Rating :

Please login to rate this movie.
Hum Tum Aur Ghost
Plot

In the world of Armaan and Gehna, life is truly beautiful, yet it's like walking on a tightrope. For Armaan, the fashion photographer, debonair, charmer to the core and loved by all around him life only gets better when he dates Gehna, a High profile fashion magazine editor. Life is picture perfect - a doting girlfriend, a job where his expertise with the camera makes him the most wanted photographer in the London fashionista!

Armaan has learnt that his chronic insomnia is ...
Movie Details

Genre: Comedy
Language: Hindi
Status: Released

Cast
Arshad Warsi, Dia Mirza, Sandhya Mridul, Boman Irani