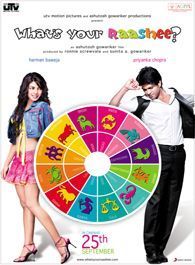 Overall Rating :

Please login to rate this movie.
Whats Your Raashee?
Plot

Never before have the sun and the moon played such an important role in romance.

What's Your Raashee? is the story of Yogesh Patel, a young man who in his heart has always wanted a love marriage. Till suddenly, he is told that he must find his dream girl within ten days to save his family from utter ruin.

Finding the dream girl is tough enough. Finding her in a hurry is even tougher.

His solution is simple; he will meet one girl from each raashee – sun ...
Movie Details
Language: Hindi
Status: Released

Cast
Rajesh Vivek, Daya Shanker Pandey, Harman Baweja, Priyanka Chopra, Anjan Srivastava,
Production Credits
Choreographer: Raju Khan

Producer: Ronnie Screwvala

Screenplay: Ashutosh Gowarikar

Director: Ashutosh Gowarikar

Producer: Ashutosh Gowarikar