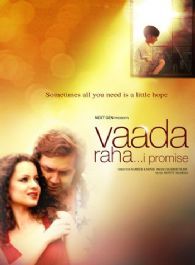 Overall Rating :


Please login to rate this movie.
Vaada raha... i promise
Plot

Duke Chawla's life today can be called gratifying – professionally he is a successful doctor, personally an ardent lover and parent to a doting dog - Junior. Currently, Duke lives alone with Junior. He loves Nalini, who is career oriented like him, their marriage plans are in the offing. Duke has recently struck a deal for a dream apartment he plans to move to post marriage.Duke's research on cancer has recently been acknowledged by the American Medical Association. Each time his ...
Movie Details

Genre: Social
Language: Hindi
Status: In Production

Cast
Sharat Saxena, Dwij Yadav, Bobby Deol, Kangana Ranaut, Mohnish Behl
Production Credits
Sound Track: Leslie Fernandes

Cinematographer: Binod Pradhan

Screenplay: Aseem Arora

Dialogue Writer: Aseem Arora

Story Writer: Aseem Arora

Screenplay: Samir Karnik

Dialogue Writer: Samir Karnik

Producer: Samir Karnik

Director: Samir Karnik