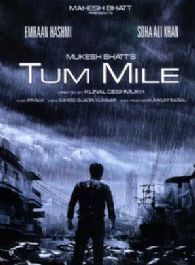 Overall Rating :


Please login to rate this movie.
Tum Mile
Plot

26th July 2005 rang an ominous bell-for most..but amidst all the chaos and the tragedy, it reunited two star crossed ex lovers. 2 people who meet after a hiatus of 6 years-now occupying different worlds. Evidently, they had moved on…

What starts off as a seemingly innocuous encounter on the same flight back to Mumbai-ends up as a rollercoaster ride through some of the darkest hours of Mumbai-as they see the city get swamped with disaster and loss…and are forced to stick ...
Movie Details

Genre: Romance
Language: Hindi
Status: Released

Cast
Production Credits
Director: Kunal Deshmukh