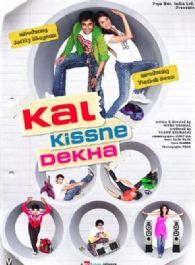 Overall Rating :

Please login to rate this movie.
Kal Kissne Dekha
Plot

Nihal Singh from Chandigarh is a seemingly simple yet unconventional
boy. He talks too much, questions everything and builds complicated
gadgets in his spare time. He has a brilliant mind and an oddball sort
of charm. He adores his mother, has dreams of studying in the most
elite institute of science and always looks for big ideas in small
things. When he is accepted into his dream college in Bombay city, he
is over the moon. College is a whole new world, full ...
Movie Details

Genre: Science Fiction
Language: Hindi
Status: Released

Cast
Nushrat Bharucha, Vaishali Desai, Rishi Kapoor
Production Credits
Publicity Designers: Rahul Nanda

Producer: Vashu Bhagnani