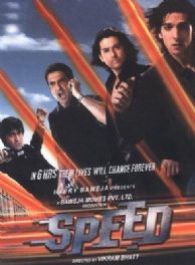 Overall Rating :


Please login to rate this movie.
Speed
Plot



What do you do when you get a phone call from a stranger begging you to save her life?
What would you do if your only ray of hope is your phone?

Would you sacrifice your love to save somebody's child?



Speed answers these questions in a dramatic way. It's a great mix of mystery, action and comedy, on the beautiful backdrop of London.



Zayed Khan comes to London to convince his girlfriend Tanushree Dutta to give him ...
Movie Details
Language: Hindi
Status: Released

Cast
Tanushree Dutta, Zayed Khan, Urmila Matondkar
Production Credits
Choreographer: Raju Khan

Director: Vikram Bhatt