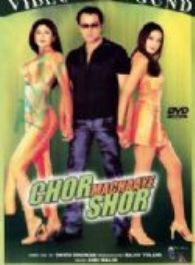 Overall Rating :


Please login to rate this movie.
Chor Machaaye Shor(2002)
Plot

Bobby Deol plays a petty thief Sham who is on the run with a thirty crore diamond. When cops get too close to nab him, he hides the diamond in an under-construction building. Cops arrest Shaam and put him behind the bars for two years. After he is released from the prison the first thing Sham does is to go back to that construction site where he had hidden the diamond. To his utter shock, he finds out that the building has been converted to a police station.
Movie Details
Language: Hindi
Status: Released

Cast
Dinesh Hingoo, Shekhar Suman, Paresh Rawal, Bobby Deol, Bipasha Basu