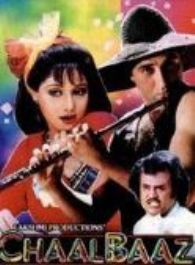 Overall Rating :


Please login to rate this movie.
Chaalbaaz
Plot
Cast: Anupam Kher, Sunny Deol, Rajnikant, Sridevi
Music Director: Laxmikant Pyarelal
Director: Pankaj Parashar
Producer: A.purnachandrarao
Release Date:8 December 1989
Genre:Action | Comedy | Drama | Family | Musical | Thriller
Plot:Anju and Manju, identical twins separated at birth. Born to a rich father who is paralyzed, they are brought up in totally contrasting environments. Anju is brought up in her father's house, bullied by her step-mother ...
Movie Details
Language: Hindi
Status: Released

Cast
Rohini Hattangadi, Rajinikanth , Kader Khan, Anupam Kher, Sridevi , Sunny Deol, Shakti Kapoor