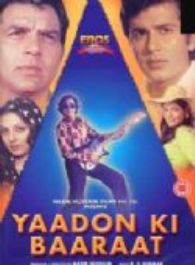 Overall Rating :


Please login to rate this movie.
Yaadon Ki Baraat
Plot
Cast: Dharmendra, Zeenat Aman, Vijay Arora, Neetu Singh
Music Director: Burman R D
Director: Nasir Hussain
Producer: Nasir Hussain
Lyrics: Majrooh Sultanpuri
Year: 1973
Genre:Drama | Romance | Action | Musical | Family
Plot:Shankar (Dharmendra), Vijay (Vijay Arora), and Ratan (Tariq) are three brothers. On their father's birthday...
Movie Details
Language: Hindi
Status: Released

Cast
Vijay Arora, Zeenat Aman, Aamir Khan